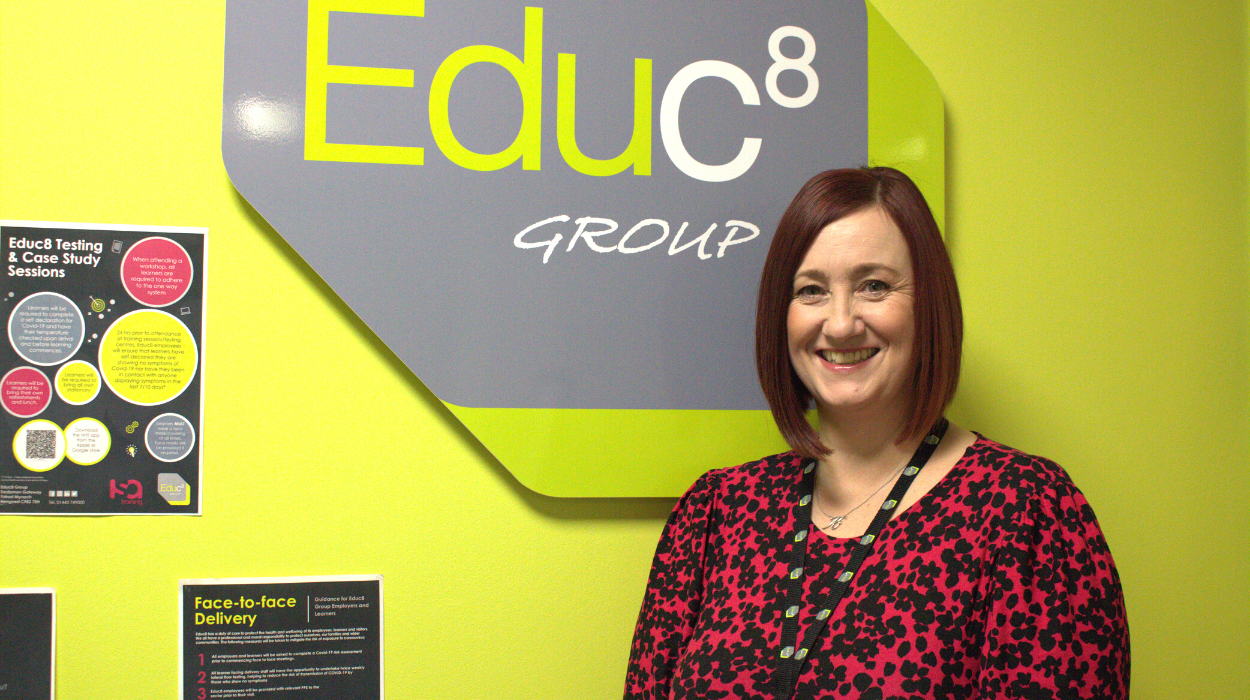 Shining a light on Business Admin Invigilator Kelly Watts, for her dedication and commitment to learning.
You're never too old to learn
I came to Educ8 Training as a mature student studying my Level 2 apprenticeship in Business Administration and have been working at the company for a total of 18 months.
My background lies within the travel industry, and I've a lot of experience in customer service, so doing a business qualification was completely new to me.
I believe that if you want to do something, you've just got to go for it. As long as you're ready to put the work in, you can achieve anything. Whatever your age.
I can relate to the learners
Studying my Level 2 and 3 in Business Admin has helped me understand exactly what the learners are going through.
If I know I've got a test, I will constantly revise. It took me three times to pass my maths, but I eventually got there. Although parts of my Level 3 have been challenging it has been rewarding, and I look forward to receiving my qualification in a months' time.
When I'm assessing, I tell them my story and they automatically feel at ease because it helps them know that the invigilator has gone through the same experience. I know how the learner feels and can relate to them.
Working at Educ8 Training
I can't praise the Trainer Coaches enough. They are all amazing and so supportive and I think that is what got me through, especially with essential skills.
I feel that achieving the illumin8 award is why I want to progress. It has made me proud of myself to keep going and I am excited to do another qualification.
All my team are supportive, and I really enjoy working at Educ8 Training.
Recognised for dedication
Rebecca Engwell, IQA Team Leader said, "Kelly has given 150% commitment to her qualification and is an asset to the invigilation team."
Anna Dix, Trainer Coach at Educ8 said, "Kelly has been able to apply the units to her role to develop her business admin skills and has excelled herself and progressed from Level 2 to 3. She always has good ideas and takes initiative with a smiling face and positive attitude."