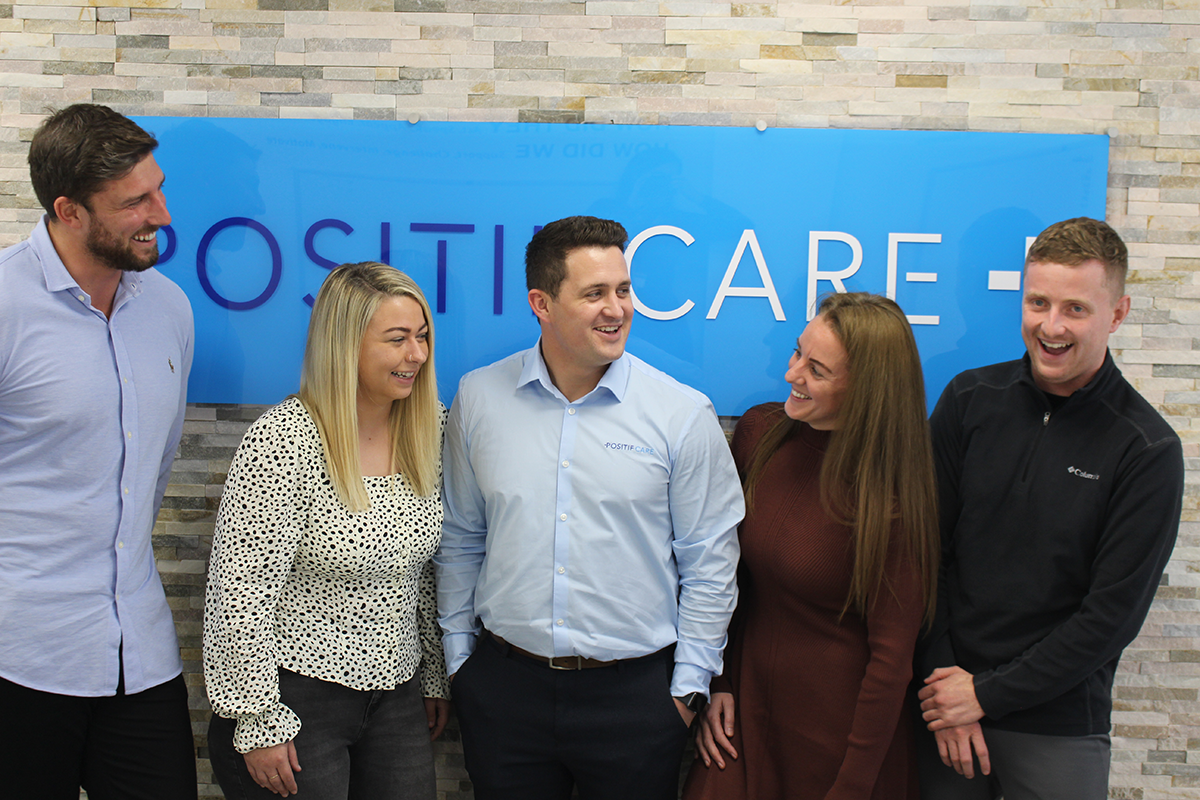 Positif Care based in Blaenau Gwent offers specialist long and short-term residential care for children. The company invests in its staff, with training and development at the heart of the business.
Working with Educ8 Training, it offers Level 3 Health and Social Care, Children and YoungPeople to staff. The training helps develop a skilled and knowledgeable workforce that aims to change the lives of the children and young people in its care.
We hear from some of the staff at Positif Care who are studying the Level 3 qualification with Educ8.
"I have always preferred practical learning"
Josh Harvey is a residential support worker at Positif Care. He said, "I have always preferred practical learning over traditional teaching in schools and college. The qualification with Educ8 is ideal for me. When I left school, I went to college to study an apprenticeship in engineering. My studies were cut short when I was diagnosed with meningitis. It meant I couldn't pursue a career as an engineer afterwards.
I have always been a people person and working with children and young people is the perfect career path for me. I want to support those that need my help, and I am hoping to make a big difference to the lives of those I work with."
"I decided to change career completely"
Katie Adams worked at a local factory for 14 years. She decided to change career and pursue a job working with children.
She said, "Positif Care has such a good reputation locally – I knew I wanted to join the company and help make a difference.
The flexibility of the qualification was appealing to me. As a mum I have to work around school holidays and a busy home life. Educ8 Training is supportive, and my trainer coach assesses me at a time convenient to me. Studying a work-based apprenticeship means I study during work time and around my home life. We get plenty of time to complete modules for the qualification."
"Investing in staff means we have the skills we need"
Lewis Tucker is an acting team leader studying the Level 3 qualification in Health and Social Care, Children andYoung People.
Lewis said, "I have really enjoyed the modules involving identity, culture and religion. Also implementing childcentered approaches learnt into working practice is highly important, a childcentered environment allows children to thrive and progress to their fullest potential. Positif Care compassionately invests in their staff, ensuring we have the skills required to improve the lives of young people. The qualification provided by Edcu8 Training is relevant and invaluable to help me make a positive impact on the young people in my care."
"I study around a busy work and family life"
Danielle Head works full-time as a residential support worker. She balances work with motherhood and her studies.
She said, "Balancing parenting, working full-time and studying can be tricky, but the qualification is work-based and very flexible. I have been assigned a trainer coach who sets up monthly meetings which are flexible and tailored around me and my job. I still get to spend my evenings and weekends with my children, and I have a good work-life balance.
As part of the qualification, you study core modules and then get to choose optional modules. I have enjoyed the medication and food safety modules most. The company invests in its staff and puts values first. I aspire to progress within the company and feel empowered with the new skills I am learning."