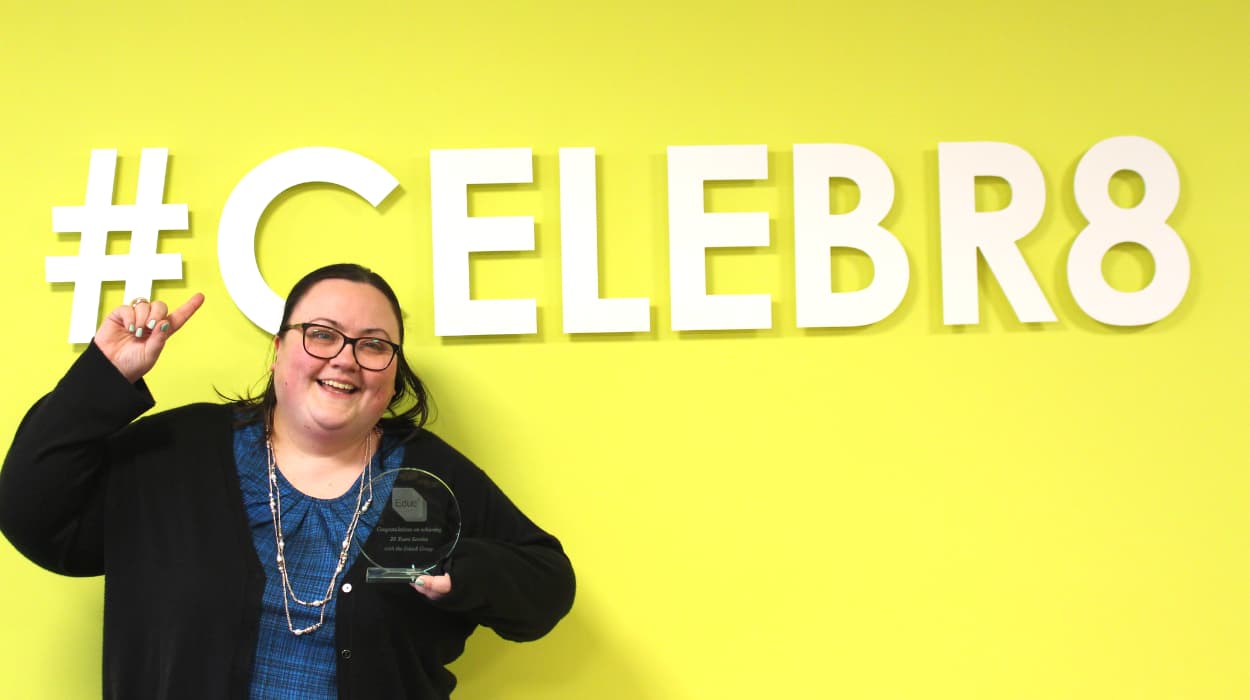 Compliance Manager, Cheryl Palmer recently received her 20 years' service award with Educ8 Training. During that time, she has completed an impressive seven apprenticeships throughout her career.
My journey started at the age of 16. I studied business admin in college and decided to do my two weeks work experience with ISA Training.
At the time, ISA offered an apprenticeship in business administration and after completing my work experience, they got hold of me and asked if I wanted a job.
I left college and haven't looked back since.
All my qualifications are apprenticeships
In total I have completed seven apprenticeships in business administration, customer service, team leading and management.
I've had a total of six roles within the company and have worked my way up from Office Junior to Compliance Manager.
My favourite position has got to be the role I am in now. I get to use my expertise to help train staff, improve quality and look for good practice to share across the company.
Making it work around you
There is a lot of flexibility with working on the job and studying an apprenticeship.
Most of what I learnt in the business qualification is what I do in my role. You are simply generating the evidence.
One of the best things to have come out of the pandemic is the flexibility and option for remote learning. It benefits both the learner and the assessor, and it works around you.
Taking a step in the right direction
Without studying the apprenticeships, I wouldn't have had the confidence to get to where I am now. I have been able to acquire the skills for the job and it has helped me grow as a person.
I feel more confident and have been able to progress through the company.
Everyone has been so lovely and friendly and It's such a nice place to work.
Get from it what you need
The best part about studying an apprenticeship is knowing that you will be able to put into practice what you have learnt.
Learning whilst doing is I find, the best way of learning. You learn exactly what you need for the job.
From an employer's point of view, the learner can be trained in the way they work. Some employers have had learners come in where they've previously trained in a college and had to retrain them.
Apprentices can work in a way that suits the needs of the business and in a way that works best for the clients.
I would have never thought I would get to this point in my career. I would like to say a huge thank you to Shirley Davis-Fox who gave me the job all those years ago.
I'd also like to thank Katherine Wing, Quality and Compliance Director who recruited me as Compliance Manager. She has been my mentor throughout and gave me the encouragement I needed to go into management.