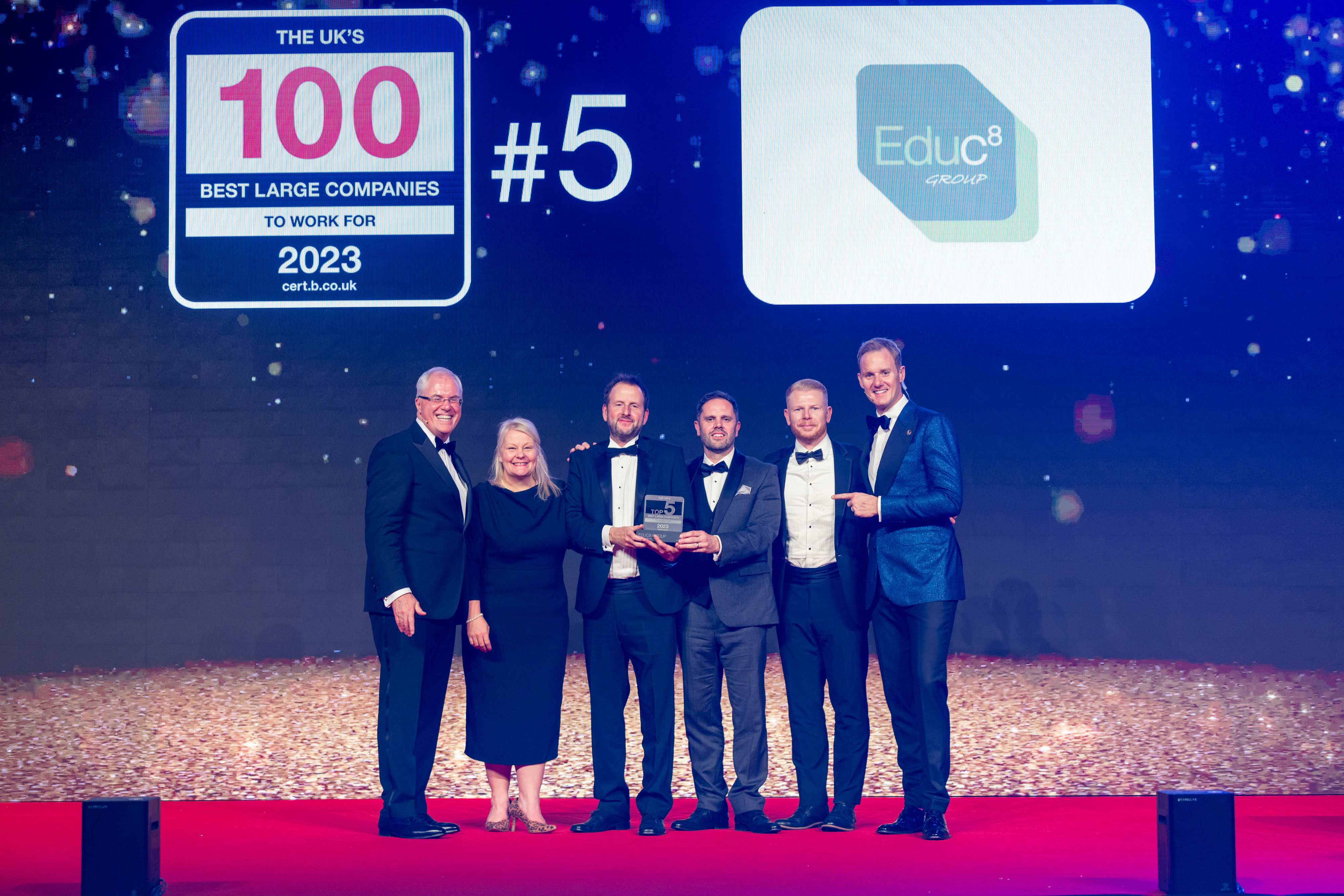 We are honoured to be recognised among the Top 5 'Best Large Companies to Work For in the UK' as well as securing the number 2 spot in the 'Best Education and Training Companies in the UK'.
Each year Best Companies compile a list of organisations that are dedicated to doing the right thing, prioritise their people and recognise the significance of a highly engaged workforce. Businesses placed on the list are committed to their employees, acknowledging that they are a crucial part to their success. Celebrating at the prestigious event in Battersea Evolution in London, companies from all over the UK came together to celebrate.
This year marked our first entry into the 'Large Companies' category. The transition from 'Mid-sized Companies' to the 'Large Companies' category highlights our exceptional growth and dedication to making Educ8 Training Group an outstanding place to work. 2023 is the ninth consecutive year that Educ8 has been commended on the Best Companies list and the third year in a row being placed in the top 5.
With 275 employees across the Group, consisting of Educ8 Training, ISA Training, Aspire 2Be and Haddon Training, we are passionate about community. Recognising outstanding performance through awarding our staff with Gr8 days, length of service and Appreci8 days. In addition to offering an extensive wellbeing support programme. We make sure our staff feel supported and are happy both inside and outside of the workplace.
Grant Santos, Chief Executive at Educ8 said, "We are so pleased to have placed so highly amongst some of the best companies in the UK. Educ8 truly values its employees and the important contribution they bring to the workplace every day, and we aim to provide them with a positive and encouraging environment where they feel supported. An organisation's employees are critical to its success, and nurturing our employees continues to be a priority for Educ8 Training Group."
Launching our new Energy and Carbon Management apprenticeship, pioneering Virtual Reality (VR) training for Hairdressers across Wales and celebrating one year of becoming an EOT, has been significant to enabling employees to become more involved in company decisions to help improve our organisation.
Jude Holloway, Managing Director at Educ8 said, "Moving to employee ownership was a tangible way to acknowledge and reward our exceptional staff. It was an excellent way to crystallise our other employee engagement and wellbeing initiatives that include an increased benefits package, 24/7 staff support and dedicated Rejuven8 time. We are very proud to be named in the Top 5 large companies, and this award inspires us to always strive for the happiness of our employees."
Educ8 Training Group continues to lead the way in providing high quality learning experiences for learners and a rewarding environment for employees. If you're looking to work for one of the 'Top 5 Best Companies to Work for in the UK', visit – Work with us to explore our wide range of vacancies and training opportunities.