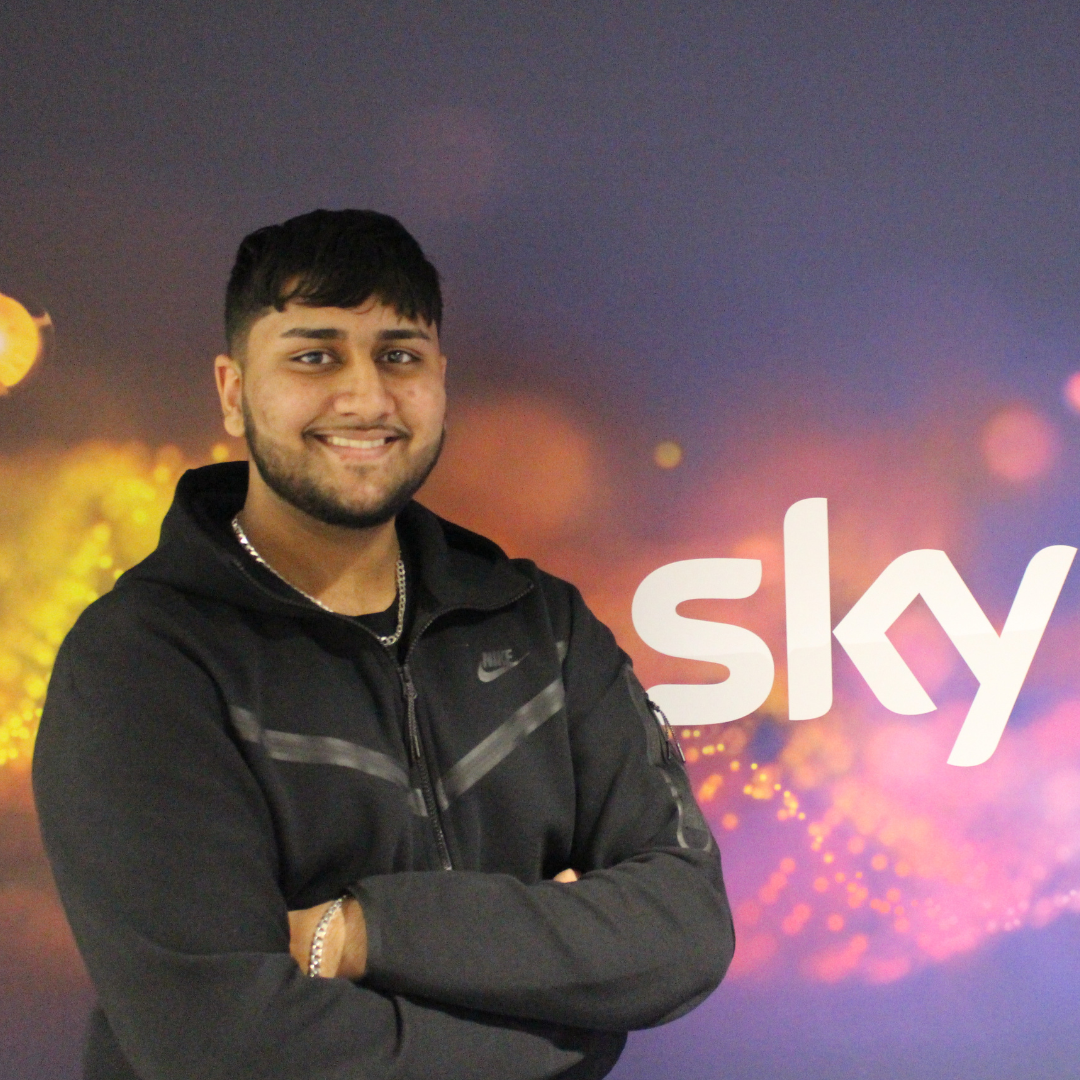 Earlier this year we announced that Sky has teamed up with Educ8 Training to create a tailored approach for their apprenticeship provision in Wales.
Customer Service Apprentice Sean Singh shares his journey to securing a full-time role at Sky whilst studying a Level 2 apprenticeship in Customer Service and how its already opened doors to progression.
Before studying the apprenticeship and securing the role with Sky I worked part time alongside revising for my GCSE's and studying for my AS levels.
Part time roles as a Retail Assistant, Cashier and even stocking shelves, has given me the confidence and the skills to be able to engage and interact with customers both face to face and over the phone. This was something I struggled with before. Having that experience has been beneficial. It has made it easier for me to settle in and get stuck into my new role at Sky.
My role involves managing customer enquiries regarding their bills and Sky packages and offering support with various promotional offers.
I really enjoy helping people in my role. Due to the current financial crisis, people need to cut costs and my role can help find something affordable.
Experience + qualification = opportunities
There are lots of benefits to studying an apprenticeship. Employers are looking for people with experience, not just qualifications. The apprenticeship is great because it gives you both which opens a lot of doors. For those studying A Levels, they tend to have to learn the theory and then wait to apply what they have learnt when they get a job. By studying an apprenticeship you do it all in one and I find that I am able to perform better in my job.
Employees are able to progress and you can develop within other areas of the company for example, sales, retention, journalism, and television. There are a lot of opportunities to develop within Sky and that is why I would like to continue working here and potentially step into management or a team leader role.
Everything I need to succeed
Natalie my Trainer Coach has been extremely helpful and is always there when I need her. She is great with any queries and is flexible when working remotely.
My employer offers us an hour of offline time a week. This allows me to get my work coursework done in the office which saves time trying to do it at home.
An apprenticeship is one of the best things you can do. You're getting the qualification; you are doing the job and you know that in the future you already have the experience in order to do the job well, which is why I 100% recommend doing an apprenticeship.